Basket
Your basket is currently empty.
Information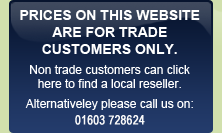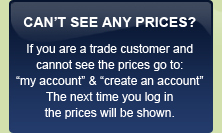 A Boards
A BOARD WITH PVC MAGNETIC COVERS
The RotoSign A Board is a simple, yet effective method of pavement or foyer advertising. Poster Holder or alternatively vinyl's can be fixed directly onto metal panel.
A quality sign manufactured with tubular frame and zintec panels.
Powder coated to a high standard (pre-treated) in a range of colours. Corporate colours are also available.
They are fitted with PVC magnetic covers as standard to protect posters from the weather and have a security loop at the bottom so that they can be chained up if required
Blackboard inserts and spare parts are also available with this model.
Signs are manufactured by us in the UK.
(DISCOUNTS ARE GIVEN FOR QUANTITY ORDERS AS FOLLOWS: £600 and over 5%, bulk orders please telephone for quotation)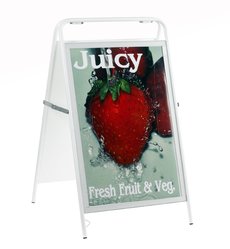 Prices are only available to trade customers.
Model No.
Overall Dimensions
(mm) (hxw)
Visible Panel Size
(mm) (hxw)
Weight
(kg)
Colour
Delivery
Price From
Qty
1.A2-0 (B/510017)
781 x 485
A2 Poster
12
ex stock
2.A1 (B/510004)
1050 x 597
20" X 30" poster
16
ex stock
3.A1-0 (B/510005)
1120 x 661
A1 poster
18
ex stock
4.A0* (B/510012)
1310 x 843
30" 40" poster
32
ex stock
Accessories
5-1.BLACKBOARD INSERT
A2-0
A2
1
ex stock
5-2.BLACKBOARD INSERT
A1
20" X 30"
1
ex stock
5-3.BLACKBOARD INSERT
A1-0
A1
1
ex stock
6-1.MAGNETIC COVER
A2-0
621 X 446
2
ex stock
6-2.MAGNETIC COVER
A1
813 X 556
2
ex stock
6-3.MAGNETIC COVER
A1-0
866 X 619
2
ex stock
6-4.MAGNETIC COVER
A0
1042 X 788
2
ex stock
*Please call for accurate lead times - ex-stock orders should be received the following day for all orders placed before 2pm.
*Special offers are subject to availability and may only be available in certain colours.

= non standard colour enquiry
Related Products